The Tony J. Vracarich Fund
Established in 2021 by Tony, a veteran of the U.S Marine Corps, in gratitude for the Greater Philadelphia Chapter's services. This fund supports the mission of the ALS Association.
Tony was born and raised in Myerstown, PA. He was always athletic and played many sports, golf being a favorite. He was known as an expert on the facts about every sport! Tony also loved to ski and enjoyed many Western ski resorts while stationed at Yuma Marine Corps Base. Hiking was another activity Tony engaged in with friends, a favorite place being Hawk Mountain in Pennsylvania. He had a special love for motorcycles and went riding often with his friends.
Friends share how much Tony loved to talk with others. He made lifelong friends just by going up to them and starting a conversation. Unfortunately, ALS took Tony's voice, but he uses his EyeGaze tracking technology to continue communicating with others.
A huge Philadelphia sports fan, Tony would often treat his friends to Flyers and Phillies tickets. They would travel to the game in a van provided by Tony with a driver to ensure everyone could have a good time without having to worry about getting home safely. The Grateful Dead is his all-time favorite band, and he has attended so many of their concerts, he has lost count. In fact, since he can no longer travel to the concerts, he has been equipped with an iPad and stereo equipment to listen to every "Dead" concert across the US in 2021 from the comfort of his bed.
If you ask Tony to share what his greatest life accomplishment is, he would proudly declare his 8 years in the United States Marine Corps. It is the stamina he learned in the Marines that has helped him as he lives with ALS. Friendships he made as a Marine are still in his life today, supporting him by attending weekly zoom meetings from his bed.
After getting his diagnosis, Tony didn't give up, but showed strength and determination and was a mentor to many. He had t-shirts made "Dream Big Do It Bigger" as a reminder to others to remain encouraged in the presence of difficult challenges like he was facing. Since his diagnosis, his empathy for others has translated to a philanthropic spirit. In addition to donating to the Chapter, he has given to The Red Cross to assist in weather catastrophes, and to the Hard Luck Sunnyside Motorcycle Club who support the Developmentally Disabled Society.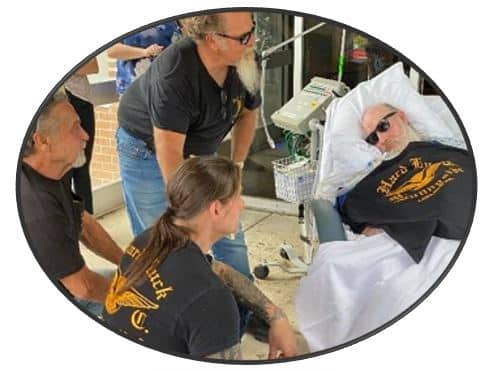 Tony was the second person ever to be named an honorary member of the Hard Luck Sunnyside Motorcycle Club for his philanthropy.